Wedding Policy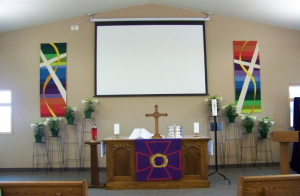 Individuals desiring a Christian marriage should be baptized Christians, actively living out their faith.
All wedding dates must be approved by the pastor.
Pre-marital counseling is expected of all couples desiring to unite in marriage.
Weddings will be conducted using the rite from the Lutheran Book of Worship.
Arrangements for music and musicians will be the responsibility of the couple in conversation with the pastor to ensure the integrity of a Christian ceremony.
Absolutely no alcohol will be permitted on church property (smoking is allowed outside the building).
Those individuals using the church facilities will be responsible for the condition of the property and any injury to persons.
Fee Schedule
Member:
Sanctuary: no fee
Custodian: $150
Organist: $100 (as needed)
Non-member:
Sanctuary: $300
Custodian: $150
Organist: $100 (as needed)